Gift-giving has long been proven to sustain relationships and build powerful brands. Create a lasting touchpoint with your clients and employees by gifting branded items that are guaranteed to leave a lasting impression for a lifetime. Let us handle the heavy lifting. Simply pick your product of choice and the quantity. We'll take care of the rest. Learn more about how it works below.
STEP 1 - DESIGN
Contact our corporate team and a representative will be with you right away to discuss the design and aesthetics of your gift. We work with a team of graphic artists and design architects to ensure your gift is built and packaged to the highest standard. You have an endless array of options on how to display your company logo on gifts we design. If you choose not to display your logo, don't worry – the gift recipient will remember you whenever they see it.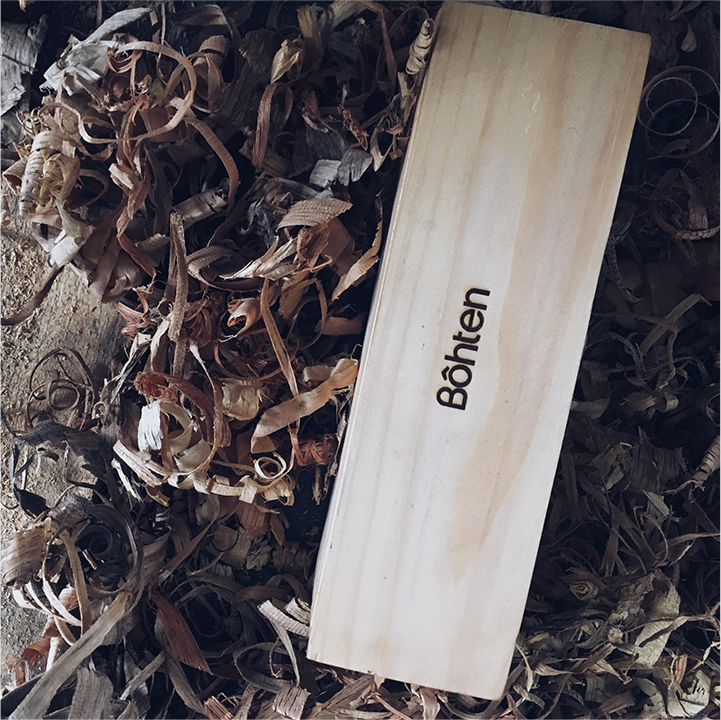 STEP 2 - IMPLEMENTATION
Once you've finalized your gift and design, a digital prototype will be sent to you for approval before we begin. You will receive a document outlining all details, pricing, timeline and shipping. We offer flexible payment options. Our representative is happy to discuss payment plans available at the time of order.
STEP 3 - PACKAGE FULFILLMENT
Now that logistics are all set, we will begin to work with our team to produce your corporate gifts. All orders take approximately four to eight weeks from conception to delivery. We send weekly updates to our clients on the status of all orders. We take the utmost care when shipping your gifts and provide detailed tracking information on all orders. We ship internationally.
CORPORATE GIFTING
Bohten is comfortable, stylish and progressive. Whether as an accessory, a necessity or a
conversation starter, our frames connect people to nature, each other and themselves.
They make a great custom gift to celebrate an event or commemorate a coprporate milestone.
Our team takes care of every detail to ensure you and your guests receive a true brand experience,
personal attention and expert advice.
BRANDED COMPANY NAME X BOHTEN
OUR PROMISE
We cater to everyone from small start-up businesses to huge corporations. We pay attention to the finite details, ensuring your gifts are personalized and delivered to exceed the industry standard. We enjoy working with company execs like you to create a lasting experience for your clients.
LET'S TALK
Let Bohten Corporate Gifting get you started on increasing ROI and help your company build sustainable relationships for years to come – and remember, it's the thought that counts.